An apple a day keeps a teacher happy, right? Well, this is my 3rd most wish-listed item! With the start of school and Fall approaching (I am way in wishful thinking because I LOVE Fall and I live in Florida where sadly Fall feels like summer :-/) this is a great unit to help get you started! I love learning about apples with my class and I am especially in love with the little doctor craftivity I included in here! I don't know about you but I always get tickled about the cute activities that I get to do with my class and my boys. When Gabriel (my oldest, who is 6) saw this, he was like "Oh, Mommy! Do I get to make this, too?"
You can click on the poster to take you to my store and see more preview pages of my "An Apple a Day" unit!
Don't forget to share the love and check out these sale items over at: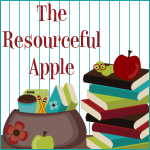 Check back tomorrow for another sale!